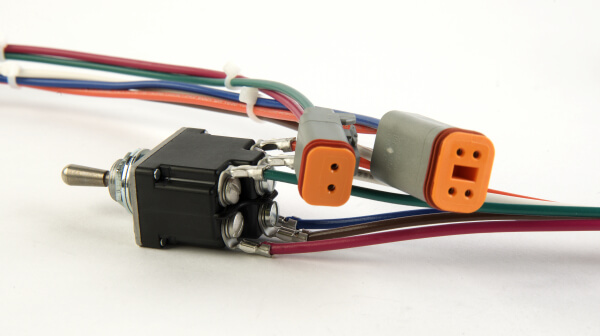 Wire Harnesses for the Automotive Industry
Custom wire harnesses used in the automotive industry need to be able to withstand the trying conditions of car engines and operating systems. To ensure the electrical components of a car work correctly and effectively, automotive wires need sleeving, water-tight seal connectors, and battery cable crimping.
Custom Cord & Harness Assemblies manufactures high-quality wire harnesses that meet the demanding needs of the automotive industry.
Automotive Harnesses with Sealed Connectors from Custom Cord & Harness Assemblies
Some automotive industry applications use battery cable instead of circuit board wiring, requiring 6-gauge or 8-gauge single conductors. These are larger and heavier than those used with circuit board connections, and they require different sets of crimping capabilities.
These custom wire harnesses also need water-tight sealed connections like Delphi, TE Connectivity, or Molex connectors, as well as weather-proof sleeving to protect the wiring from moisture. Once the wire harness has been sealed and tested, the wires are encapsulated with wire loom or fiberglass sleeving to the exact dimensions of the harness.
100% Testing for all Custom Wire Harnesses from Custom Cord & Harness Assemblies
Just like all of our custom wire harnesses and cable assemblies, every one of our automotive harnesses is tested for quality. For the larger single connectors, we tensile test our harnesses against higher weights to ensure the harness will perform properly and that it meets UL certification standards.
Contact Custom Cord & Harness Assemblies for Custom Wire Harnesses for the Automotive Industry
What sets Custom Cord & Harness Assemblies apart from the competition is our commitment to our customers. From the beginning design to the finished product testing, we work closely with you to understand your needs and to build a harness that meets your specifications.
To learn more about our custom wire harnesses, contact us today or request a quote.