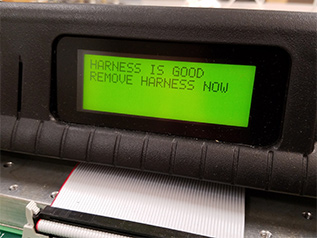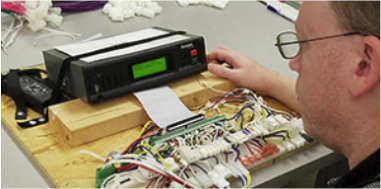 Cable and Wire Harness Testing
Testing cable and wire harness assemblies is essential to ensure that products will perform properly and will meet the specifications of the customer. Using electronic continuity testers, a computer can detect wiring or connection issues and determine the exact location of the problem.
At Custom Cord & Harness Assemblies, all our products are 100% tested over the quantity of the order, ensuring your product meets your expectations every time.
Our Cable & Wire Harness Testing Process
After all of the wire or cable has been processed for assembly by our automated computer-controlled equipment, the assembly process of a wire harness and cable assembly is a manual process. Connector housings need to have the correct wire loaded in the correct position, and the best way to ensure this happens is to electronically test the assembly with our continuity testers.
While all wire harness and cable manufacturer's use continuity testers for testing assemblies, very few are as committed to testing as Custom Cord & Harness Assemblies. We are committed to testing at 100% of order quantities. This is the best commitment we can give our customers for ensuring that they receive an assembly that is high quality, reliable, and meets their expectations.
UL 486 Tensile Testing for Wire Crimping
In addition to our automated equipment testing, we also perform manual tensile testing to meet UL 486 standards. We test our assemblies to ensure that the wire crimp quality is correct, and that the crimp termination is operational under specific poundage.
Contact Custom Cord & Harness Assemblies Today for your Wire Harness Assemblies
We pride ourselves on consistent quality and excellent customer service. With our comprehensive testing, we can guarantee your assembly will meet your expectations every time. To learn more about our cable assembly and wire harness testing, contact us today or request a quote.