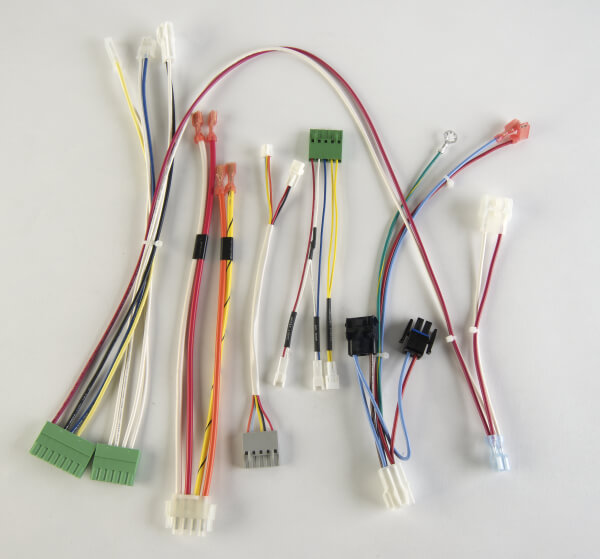 Wire Harnesses for HVAC Applications
Electronically controlled wire harnesses are used in HVAC applications to control circuit-boards in HVAC equipment. Because these applications involve moisture and potential hazards to electrical components, wire harnesses in the HVAC industry need sleeving in precise dimensions for protection.
Custom Cord & Harness Assemblies manufactures custom low voltage wire harnesses for heating, ventilation, and air conditioning applications.
Custom Wire Harnesses for Residential Style HVAC Applications
Custom Cord & Harness Assemblies works with OEMs to manufacture low voltage, small gauge electronic control harnesses for residential HVAC systems. Our wire harnesses are used to relay signals to the circuit board, which controls the electronic components of the HVAC machinery.
Circuit boards are a major component of any electronic device, and wire harnesses need to be customized to provide the appropriate signals for the equipment. Some HVAC applications may need moisture sensors, and we can build wire harnesses to accommodate this.
Responsive Prototyping for Custom Harnesses
We manufacture our custom wire harnesses to your specifications. We recognize that design needs may change, and as the specifications change, we try to be as responsive as possible. We complete prototype work efficiently to move the design into production.  
For Custom Wire Harnesses for the HVAC Industry, Contact Custom Cord & Harness Assemblies Today
We pride ourselves in our commitment to customer service and quality. Unlike other wire harness manufacturers, we test 100% of our products, ensuring the quality of your product every time. Our wire harnesses and cable assemblies are UL certified tested and verified so that you can trust your custom harness will meet your needs.
To learn more about our custom wire harnesses for HVAC applications, contact us today or request a quote.