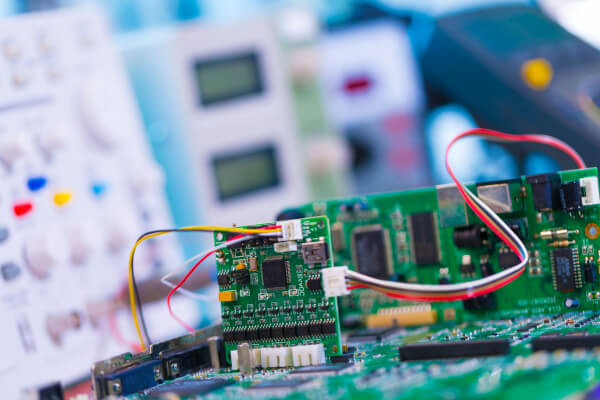 PCB Assembly
In addition to our custom wire harnesses and cable assemblies, we offer printed circuit board (PCB) assemblies once your harnesses are complete. As a convenient option, we will attach all of your cable assemblies to your PCB before shipping to you.
Custom Cord & Harness Assemblies offers PCB assemblies as a value-added service to our customers. We are committed to providing the highest quality service, and that means offering additional services to take some of the weight off your shoulders.  
Our Printed Circuit Board Assembly Process
We know how vital it is to keep static electricity out of the circuit board. For this reason, our team of manufacturers always use grounding straps when attaching your cable assemblies and wire harnesses to your printed circuit board.
Once the wire harnesses are attached to the PCB, we package the completed product in an antistatic bag and ship to you. When you receive your PCB assembly, all that will be left for you to do is energize the board.
Contact Custom Cord & Harness Today for Your Value-Added Services
In addition to PCB assemblies, we also offer other value-added services like electromechanical assemblies for your convenience. We provide full assembly services before shipping, so energizing your assemblies and integrating them into your system is quick and easy,
We are committed to customer satisfaction and provide 100% testing on all of our products so you can feel confident in the quality and performance of your assembly.
To learn more about our PCB assemblies or other value-added services, contact us today.